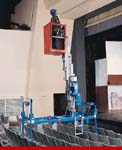 This accessory allows you to position and use your Genie AWP over obstacles and stairwells. It assem bles without tools. The Super-Straddle provides up to 40 inches (1.01m) of vertical clearance and features four non-marking casters. The end-frames ad just for leveling on sloping floors up to 5 degrees.

Genie IWP Super Series
Industrial Work Platforms
Stability without Outriggers

These lifts let you set up in seconds and work at heights of up to 35 ft 6 in (11 m) with exceptional stability 4 no outriggers needed. Wit h two base options and six platform options, you can choose the ideal model to fit your application.

Doorway Access
The standard base model easily rolls through standard doorways, and wide-base models roll through typical indust rial double doorways.

Stability and Capacity
A rigid aluminum mast, automa tic level sensing and integral leveling jacks offer exceptional stability. Plus, the standard platform is one of the industry s largest.

Additional Features
All models are equipped with an auxiliary platform-lowering feature for use in the event of a power outage. An outreach option provides over 2 ft (61 cm) of additional horizontal out reach (IWP -20S) to maneuver over shelves or equipment.




Standard Features

Standard base of 60 x 32 in (1.52 m x .81 m), easily rolls through stan dard doorways.=20
Standard platform of 27 x 26 in (.69 m x .66 m), the largest standard s ized platform in the industry.=20
The most rigid mast in the industry, designed for strength, reliability and low maintenance.=20
Built-in level sensing. A unique sensor system detects if the unit is n ot level.=20
Power failure protection. All AC and DC models are equipped with an aux iliary platform lowering feature.

Options and Accessories

Outreach package 26 in (.66 m)=20
Power Wheel Assist=20
Platform-locating laser light=20
Warning light and descent alarm=20
AC/DC power=20
Platform options=20
Fluorescent tube caddy=20
Tool Tray=20
Dual battery package

Standards Compliance

ANSI/SIA A92.3=20
CSA CAN3-B354.1=20
CE compliance=20
AS 1418.10=20
PB-10-611-03
Genie DPL Super Series
Dual Personnel Lifts
The Dual Work Platform for One or Two Workers and their Tools -
An Outstanding Value




These models roll easily through congested areas and offer ample space f or two workers and their tools on the larger platform. They feature easy-to -use controls and exceptional stability, as well as auxiliary platform lowe ring.

Doorway Access
The DPL rolls through standa rd doorways with a handle for convenient steering. Swivel lock casters allo w 360=CB=9A rotation in confined spaces.

Smooth, Efficient Power
AC (110 V or 220 V) and DC ( 12 V) power options are available, offering clean, quiet operation for indo or or outdoor use. Platform-mounted GFCI 110 V electrical outlet is standar d.

Simple Transport
Outrigger storage, forklift pockets and tie-down points help secure these units for easy transport, while winc h attachment points are convenient for loading on roll-back trucks.




Options and Accessories

Tool tray=20
Fluorescent tube caddy=20
110V or 220V at 50/60 hz=20
Operational warning light and descent alarm=20
Platform-locating laser light

Standards Compliance

ANSI/SIA A92.3=20
CSA CAN3-B354.1=20
CE compliance=20
AS 1418.10=20
PB-10-611-03
Genie , GR -15 and GR -20 Runabout
Self-Propelled Aerial Work Platforms
The Genie Runabout is ideal for stock-picking, transporti ng, inventory management, general maintenance and construction. It s a compact, low-weight machine that is driveable when fully elevated for m aximum productivity.

Compact Access
These models fit in most passenger el evators and can be driven through doorways with the operator on board.

Driving and Steering
Zero inside turning radius, 30% gradeability, a spring-applied hydraulically released brake system and non -marking solid rubber tires enhance maneuverability.

Simple Operation

Platform controls include on-board diagnostics, and proportional lift and drive controls provide a smooth ride . Auxiliary platform lowering enables descent in the event of a power failu re.



Features:




GR-12
GR-15
GR-20
Speci fications
Working Height
17 ft 5 in (5.48 m)
20 ft 8 in (6.47 m)
25 ft 11 in (8.07 m)
Platform Height
11 ft 5 in (3.48 m)
14 ft 8 in (4.47 m)
19 ft 11 in (6.07 m)
Height (stowed)
5 ft 2 in (1.57 m)
5 ft 2 in (1.57 m)
6 ft 6 in (1.98 m)
Length (stowed)
4 ft 5 in (1.35 m)
4 ft 5 in (1.35 m)
4 ft 5 in (1.35 m)
Width
2 ft 5.5 in (.75 m)
2 ft 5.5 in (.75 m)
2 ft 7.5 in (.8 m)
Lift Capacity
500 lbs (227 kg)
500 lbs (227 kg)
350 lbs (159 kg)
Ground Clearance (center)

2.5 in (.06 m)

Drive Speed (stowed)

2.5 mph (4.0 km/h)

Drive Speed (raised)

0.5 mph (0.8 km/h)

Gradeability*

30%

Turning Radius-inside

Zero

Controls

24 V proportional controls

Tires

Non-marking tires

Power Source

4 batteries, 6 V 225 Ah batteries

Hydraulic System Capacity

2.2 gal (8.33 L)

Weight**
1,581 lbs (717 kg)
2,192 lbs (994 kg)
2,451 lbs (1,112 kg)

*Gradeability applies to driving on slopes. See operato rs manual for details regarding slope rating.
**Weight will vary dependi ng on options and/or country options.



Trailer Mounted Z -Booms





Versatile Reach With Towing Convenience

These models provide the Cup, over and out working enve lope of a Z -boom with convenient built-in towing capabilities. The y offer one of the industry s best operating envelopes, with flexib ility to reach jobs high and low. Lightweight and maneuverable, they're ideal for congested jobsites and are frequently used by contractors, maintenance crews and painters. Special features include the exclusive Geni e Automatic Leveling System on all models and the Drive and Set option on the TZ -50.

Easy Transport and Setup
With a variety of hitch cou pler options, Genie trailer-mounted Z -booms are easily towed behind a pickup or SUV. Hydraulic outriggers with automatic self-leveling allow machine setup in as little as 40 seconds.

User-Friendly Controls
Both ground and platform cont rols feature an easy-to-use pictograph system, so operators can get to work quickly.

Productive Choices
Although rugged and heavy-duty, t he TZ -34/20 is lightweight enough to use on lawns, slate or gymnas ium floors. Or choose the TZ -50 for exceptional value with excepti onal working range. The TZ -50 also offers an articulating jib boom option for expanded working range, and the Drive and Set option f or ultimate flexibility to position the unit quickly and efficiently.

TD>
Product
Working Height
Horizontal reach
Lift capacity
Standard P latform
Lift Capacity
Rotating P latform
ANSI/CSA
CE/AUS
ANSI/CSA
CE/AUS
TZTM-34/20
40 ft
(12.36 m)
18 ft 4 in
(5.59 m)
500 lbs
(227 kg)
440 lbs
(200 kg)
460 lbs
(209 kg)
400 lbs
(181 kg)
TZTM-50
55 ft 6 in
(17.09 m)
29 ft 2 in
(8.89 m)
500 lbs
(227 kg)
440 lbs
(200 kg)
500 lbs
(227 kg)
440 lbs
(200 kg)
Terex & Genie Light Towers
Whether you're looking for a cost-efficient workhorse or the ul timate in flexibility, Genie and Terex offer a range of portabl e, heavy-duty models to fit virtually any lighting need. These units illumi nate areas with poor light or at night with quick, easy setup, user-friendl y controls, industry-proven components and 60 to 100 hours of continuous ru n time between refueling. From construction sites and sporting events to mi nes and oil fields, each model is built to deliver consistent, reliable lig ht on your site.
Product
Tower Height
Width Stowed
Length Stowed
Dry Weight
RL 4000
30 ft
(9.14 m)
4 ft 6 in
(1.37 m)
14 ft 3 in
(4.35 m)
1,760 lbs
(798 kg)
AL 4000
30 ft
(9.14 m)
5 ft 2 in
(1.56 m)
15 ft 11 in
(4.55 m)
2,050 lbs
(930 kg)
AL 5000
30 ft
(9.14 m)
6 ft 9 in
(2.07 m)
15 ft 3 in
(4.65 m)
2,425 lbs
(1,101 kg)
AL 8000HT
28 ft 9 in
(8.76 m)
6 ft 9 in
(2.07 m)
11 ft
(3.35 m)
2,605 lbs
(1,185 kg)
TML -4000
28 ft
(8.53 m)
5 ft 10 in
(1.78 m)
14 ft 7 in
(4.45 m)
2,061 lbs
(935 kg)
TML -4000N
28 ft
(8.53 m)
4 ft 7 in
(1.40 m)
14 ft 7 in
(4.45 m)
1,821 lbs
(826 kg)